How much will working with MoveTo Delivery save me
Are you an e-commerce business? If so, delivery and efficient logistics is a topic that requires a lot of time and attention. After all, these are key factors for a successful business in this area.
Companies are often looking for ways to optimize their supply chains and reduce their costs. We come up with the solution! Working with MoveTo Delivery, an external delivery service, can save up to 47% of your total delivery/transportation costs.
Let's take a look at our case study.
The e-shop focuses on selling sporting goods with express delivery within 60 minutes. How much does it cost to deliver one parcel from a selected office branch?
There are several key items to include in the cost:
Vehicles – they are the primary means of delivering your order. There are several forms of financing and it is important for the company to choose the appropriate form.
Fuel – makes up a significant portion of the total cost. It is necessary to look for economies of scale and focus on alternative fuels.
Servicing – vehicle usage is around 40-50% per day and statistically the risk of insurance claims and wear and tear increases. This is associated with operating and repair costs.
Fleet manager – with more vehicles, there is a need to look after the fleet, deal with service relationships and insurance claims, check the condition of vehicles, validity of MOTs etc.
Couriers – the huge demand for couriers increases the cost of couriers.
Advertising – the profession of courier entails one of the highest fluctuations in this profession on the labour market and it is necessary to have an effective recruitment process.
Team Leader – arranges training of couriers, communication with them, help with recruitment, shift planning and other operational matters.
Dispatching staff – copies delivery times, assists couriers and intervenes when it is necessary to reschedule the route (vehicle breakdown during delivery or customer is not at home for collection etc.).
Dispatching system – plans the most optimal route and efficient use of vehicles to ensure that the order arrives in the required time and at the lowest possible cost. The cost of the system increases with the number of vehicles involved and orders being transported.
If we add up all these internal logistics costs, we arrive at a subtotal of over half a million crowns per month.
Based on these figures and the average number of orders, one shipment costs approximately CZK 246. With MoveTo Delivery, the price is significantly reduced to CZK 129 or more, a saving of up to 47%.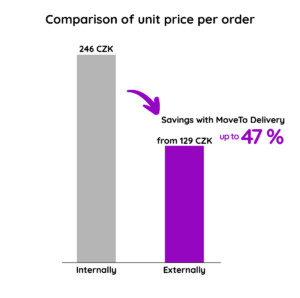 And what are the main factors contributing to these savings?
Network and coverage
MoveTo Delivery has an extensive network of delivery services across the Czech Republic and Slovakia. By continuously expanding our reach, companies can use our services in most regions while maintaining competitive prices.
Speed of delivery
Thanks to our optimised processes, we can deliver a parcel within 30 minutes or within a few hours of ordering. This leads to fewer claims and reduced costs associated with repeat deliveries. We deliver food within half an hour, purchases within 60-90 minutes, and other commodities within 4 hours or the same day. It always depends on the conditions of the trading partners.
Efficiency
By reducing the time lag between order dispatch and delivery to the customer, you minimize the risk of order cancellations. We offer the option of express delivery and delivery in time slots. This allows each customer to choose exactly what suits them best.
By partnering with MoveTo Delivery, you optimize your company's logistics processes and reduce delivery costs. We can help you grow your business.
If you have any questions, please do not hesitate to contact us, our expert team will be happy to provide you with the necessary information and answer any questions you may have.
FORM
Do you want help with the delivery of your products?