Our team
At MoveTo Delivery, we pride ourselves on having a team of qualified and experienced professionals who are dedicated to providing the highest level of service to our business partners. Our team is made up of individuals with diverse backgrounds and expertise, allowing us to provide comprehensive and integrated logistics solutions to meet the unique needs of our customers.
Our team in numbers
MoveTo Delivery's field of activity is constantly growing, with brick-and-mortar offices in Prague, Brno, Hradec Králové and Košice. We are proud of our team, which consists of our logistics managers, sales managers, as well as more than 1,800 reliable couriers, whose number is constantly increasing.
1 800+
Number of couriers

Our Logistics and Operations Managers are responsible for overseeing all aspects of our logistics services, from planning and coordination to execution and delivery. They work closely with our business partners to understand their needs and offer them the best logistics solution.
We have logistics managers in most regional cities and are thus able to address the sophisticated requirements of our partners very efficiently and quickly, essentially on a turnaround basis.

Our team of drivers is responsible for transporting shipments from one location to another, ensuring that they arrive safely and on time. Our drivers are trained to drive safely and efficiently and use the latest technology and equipment to ensure that your products are handled with care and according to hygiene standards.
Our sales managers are the face of our company and provide a friendly and efficient service to our partners. They are available to answer your questions and provide updates on the status of your delivery.

"Overall, our MoveTo Delivery sales team is committed to providing our partners with the highest level of service with a focus on efficiency, reliability and customer satisfaction. We continually strive to improve our service and meet the evolving needs of our customers. We pride ourselves on the quality of our work and the professionalism of our entire team."

Petr has in-depth knowledge of the logistics industry, including the latest trends, challenges and opportunities. He has been in the industry for more than 18 years. Since then, he has been addressing the strategic plans and development of the company with a focus on effective business plans that will help MoveTo Delivery thrive in the highly competitive logistics industry. He is skilled in managing and optimizing logistics processes and implementing cost-effective strategies for individual partners.
I started working for MoveTo Delivery as a courier in 2020. At that time, they came up with a proposal to put the first vehicles in Hradec Králové to help couriers who don't have their own cars. It didn't even take a year and a half before I was offered a promotion to the position of "Team leader" for Hradec Kralove and other cities, which I gladly accepted. I have great colleagues and a pleasant working environment. Every day I have new challenges at work which I enjoy:). I am happy that since the first car in Hradec the company has grown to more than 120 new cars and continues to grow.
COVERAGE
We operate in 29 cities, 2 countries.
With MoveTo Delivery, it doesn't matter where you are in the city. You can always count on fast and reliable delivery. The assurance of safe and timely delivery is ensured by a team of couriers who are carefully trained.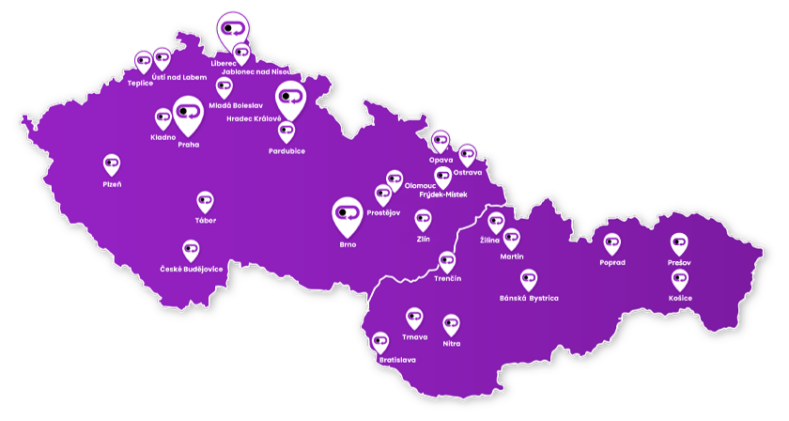 EXAMPLE
Why outsource last mile delivery?
You save up to 47% of your costs
Example of last mile delivery costs for customers who order goods from an e-shop specialising in the sale of sporting goods with express delivery within 60 minutes. The example shows the monthly cost of running your own logistics and delivery from a selected brick-and-mortar location.
| | |
| --- | --- |
| Average number of orders per day per branch: | 75 |
| Number of delivery days per week: | 7 |
| Delivery time in hours per day: | 12 |
| Number of vehicles needed: | 3 |
| Vehicle: | Fiat Fiorino |
| Average daily vehicle mileage: | 100 km |
| Average vehicle consumption: | 7 l / 100 km (diesel) |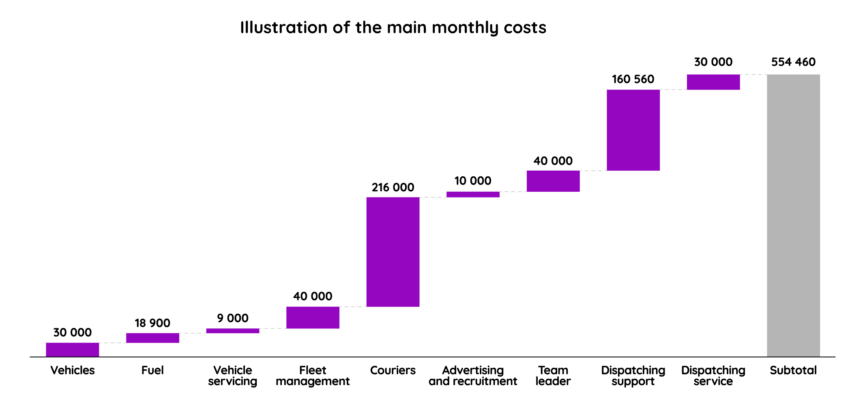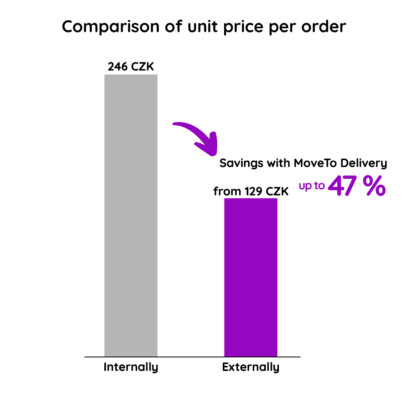 How did we arrive at this number?
554 460 CZK : 2250 contract  = 246 CZK / contract

All prices are in CZK and without VAT. The sample does not include all the complete costs, but illustrates the main cost items.
FORM
Do you want help with the delivery of your products?