Last mile delivery for our B2B partners
We deliver food from restaurants, groceries from stores, shipments from e-shops or goods from warehouses. With last-mile delivery, we help our business partners deliver orders faster and increase customer satisfaction and loyalty.






MoveTo Delivery, the modern delivery solution
We provide a 21st century service focused on "last-mile delivery". In line with our clients' needs and with respect for the environment. All with the aim of delivering parcels in the shortest possible time to ensure client satisfaction.
We offer a service that will deliver the ordered goods and taking delivery will be just a pleasant duty without any problem. This step is fulfilled by our couriers who are polite and pleasant.










YOU CAN TRUST US
Why go for it with us?
We deliver orders in record time. Up to 66% of e-commerce customers appreciate fast delivery to their address. We work for you 24/7, so you can choose the time windows that best fit your needs and we can efficiently accommodate you.
We have experience delivering food, groceries including frozen products, flowers, cosmetics, pet supplies, toys, electronics, furniture and more assortment. No shipment is not a problem for us, but an opportunity to gain new experience.
We are able to deliver food in an average of 30 minutes, groceries in 60 minutes, other commodities in around 60 minutes and oversized parcels in around 4 hours. The delivery time is made up of several key blocks, where the actual transport time from the store to the customer's final address is important, but also the time it takes to pick up the parcel and pack it in the store or warehouse.
Our priority is customer satisfaction and the environment. We use alternative eco-friendly fuels that save the planet, primarily CNG (compressed natural gas), LPG (liquefied petroleum gas) and electricity. We believe that even such a move will help leave our planet a better place.
For the highest customer satisfaction, we have a clearly defined courier code of ethics that we follow. We are guided by the motto "good behaviour is our standard". We regularly train our couriers and check your feedback so that we can offer the highest quality service.
You can increase customer loyalty by up to 55% if you can deliver within 2 hours of ordering.
Up to 66% of people don't want to wait more than 24 hours for a delivery.
On average, 61% of users abandon their cart if delivery times are long.
ALWAYS WITH A SMILE
Our services
We'll deliver everything from your favourite food and household items to your washing machine and sports equipment. And always with a smile at your door.
REFERENCE
You won't be the first to trust us.






ABOUT US
Let's get to know each other. We are MoveTo Delivery.
We are a technology and logistics company focused on last-mile delivery services. We are the last link in the delivery of the desired goods to the final destination. Therefore, our service offer also includes "same-day delivery" and other logistics services.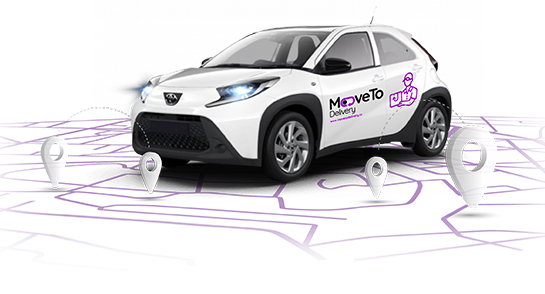 VEHICLE PARK
From small vehicles to large-volume deliveries
We have a diverse fleet of vehicles suitable for small, medium and large shipments.
We think about the environment. We use vehicles powered by alternative and environmentally friendly fuels. Primarily CNG, LPG and electricity.
All vehicles are equipped with GPS. You will know where your shipment is in real time.
TOYOTA PROACE CITY
LONG
TOYOTA AYGO
X

TOYOTA
AYGO
FIAT
FIORINO
COVERAGE
We operate in 29 cities, 2 countries.
With MoveTo Delivery, it doesn't matter where you are in the city. You can always count on fast and reliable delivery. The assurance of safe and timely delivery is ensured by a team of couriers who are carefully trained.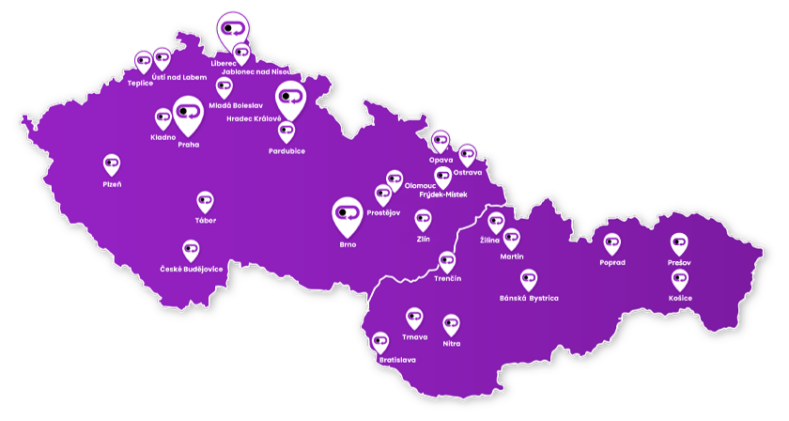 EXAMPLE
Why outsource last mile delivery?
You save up to 47% of your costs
Example of last mile delivery costs for customers who order goods from an e-shop specialising in the sale of sporting goods with express delivery within 60 minutes. The example shows the monthly cost of running your own logistics and delivery from a selected brick-and-mortar location.
| | |
| --- | --- |
| Average number of orders per day per branch: | 75 |
| Number of delivery days per week: | 7 |
| Delivery time in hours per day: | 12 |
| Number of vehicles needed: | 3 |
| Vehicle: | Fiat Fiorino |
| Average daily vehicle mileage: | 100 km |
| Average vehicle consumption: | 7 l / 100 km (diesel) |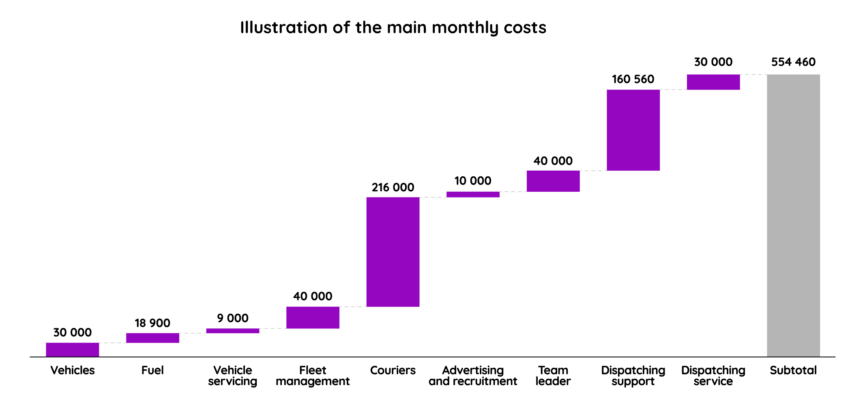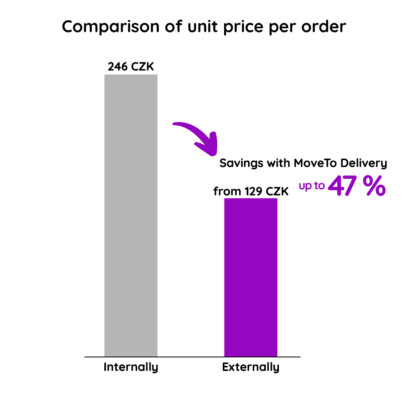 How did we arrive at this number?
554 460 CZK : 2250 contract  = 246 CZK / contract

All prices are in CZK and without VAT. The sample does not include all the complete costs, but illustrates the main cost items.
FORM
Do you want help with the delivery of your products?